Coron, Day 3 of 5 (You can read the rest of our 2011 Coron Trip here)
Note: We went here in 2011. Rates may have increased since then.
Itinerary:
Banana Island

Malcapuya Island
Total Amount (boat rent – exclusive for 2, entrance fees, lunch and snacks, snorkel set): P5700
We started the day early on the third day. We were already sailing to our first destination by 8:30. It paid off since by the time we arrived at Banana Island, there was no one there but us. We had the whole island to ourselves for almost an hour — hence, we were able to reserve the two-storey hut with a hammock. We were also able to take a lot of pictures.
Taking A Dip
Since it was just Daddy A and I, we took the time to bond and just talk. 2010 was a stressful year for us and we promised to make 2011 a better year. Our trip to Coron is one of the many trips we made and are making in 2011, which is a year of starting over for us.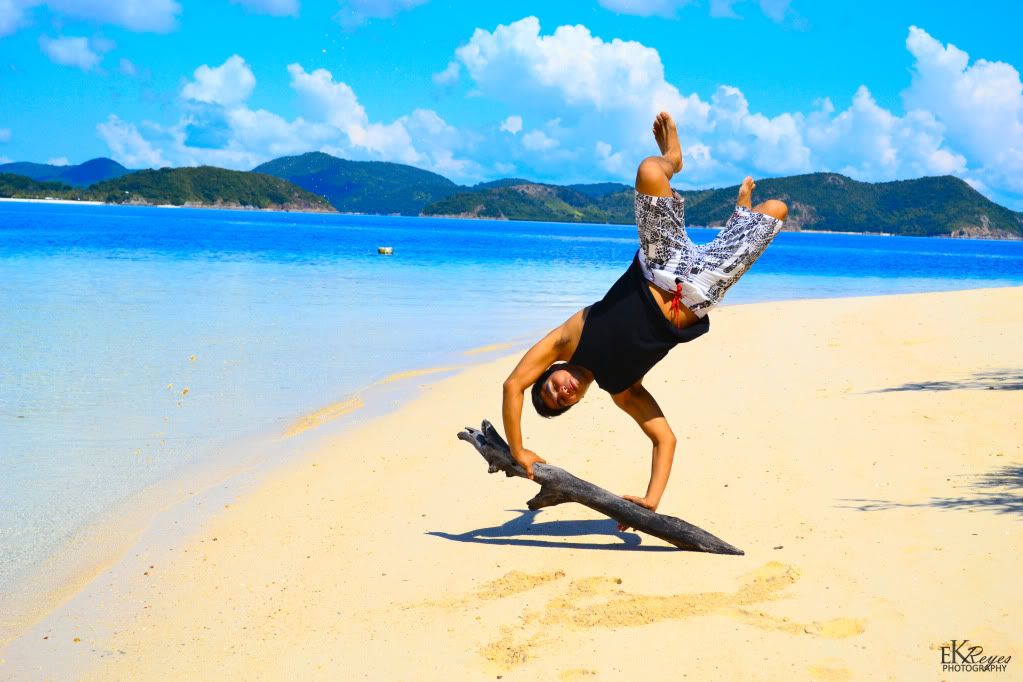 He just loves doing tricks.
By 10 in the morning, people were already arriving boat after boat at Banana Island. That's when we decided to head back to our hut and eat lunch. For this day, our boatmen prepared chicken barbecue, porkchop and Pork Sinigang. They also brought a bag of ripe mangoes with them, which I looooved.
After lunch and a quick siesta, we decided to head to our next destination. We arrived in Malcapuya Island at around 2:30 in the afternoon. When we got there, the island was already packed. There weren't any available huts anymore (not that there were many to begin with), so we just borrowed two empty chairs from a group and made that our "hut."
I wasn't able to swim in Malcapuya since I hurt myself while going down the boat. Dipping the wound in salt water was painful so I just watched Arjay as he snorkeled across the shallow waters of the beach. This is a great place for kids since the water is really shallow even if you go really far from the shore. Since I couldn't swim due to my cut, I just asked Arjay to go around the island with me. We found an interesting (well for me) creature on the beach. At first we thought it was a rock. Arjay poked it and we later found out it was a small octopus blending with the rocks.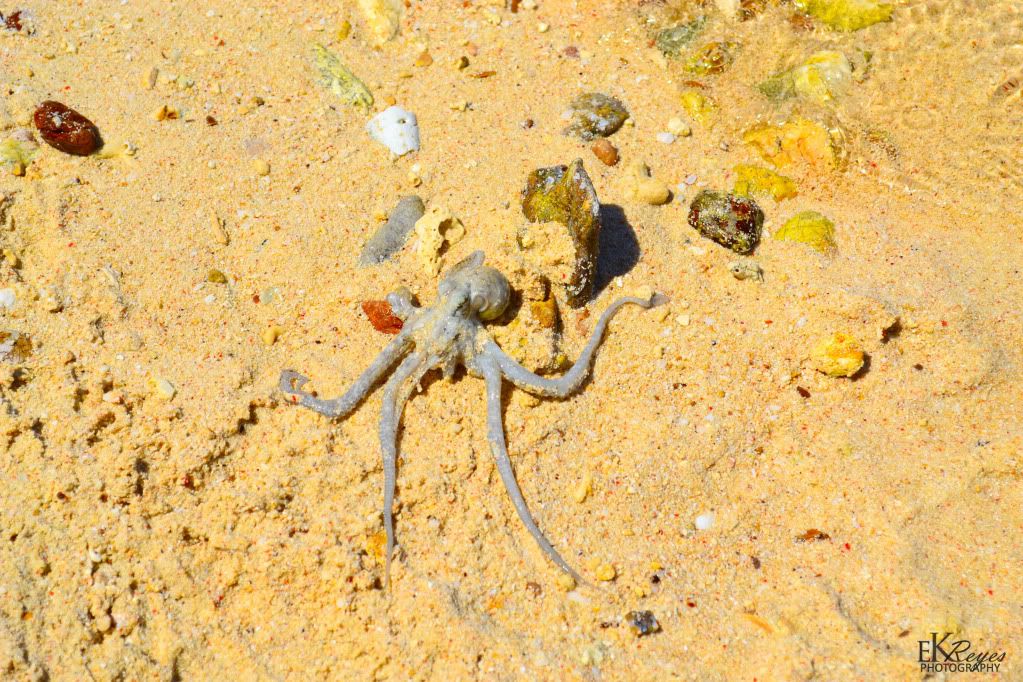 By 4 in the afternoon, we agreed to go back to Coron Town. We would have stayed longer, but I noticed that what I thought was a scratch when I slipped from the boat, was actually a deep wound. I was already in pain so we had to go back to the hotel to have my wound treated.
We arrived in Coron Town at 5:30 in the afternoon. After taking a bath, getting dressed, and resting, we went to Sea Dive Resort for dinner. I was extra happy since they serve my favorite dish: Fish n' Chips — just the way I like it.