Originally posted on Coffee With Kim on the 12th of September 2011.
The Princess' most awaited first plane ride finally came when hubby and I decided to pay his parents a visit in Tuguegarao City. The original plan was to go there during the 4-day weekend; but since there was a strong storm then, we had to move it to another weekend. We stayed in Tuguegarao for three days and two nights. Despite the short time, we were still able to visit some of the famous spots in the area. Of course, I didn't let the opportunity pass to taste the famous dishes in this paradise in the north.
Before anything else, though, let me talk about our flight to Tuguegarao. As usual, Cebu Pacific was delayed. It was such a hassle since we had a baby with us, but it has always been that way. Our seat designation was another issue. We booked our flight with a customer representative of Cebu Pacific via their hotline. When we got to the airport, we found out that the seats she booked us are in the emergency exit row despite telling her countless of times that we have an infant with us. We encountered the same issue in our return flight, but both were fixed by the attendants in the airport.
Anyway. We arrived an hour late in Tuguegarao City. We were greeted by the little girl's very excited grandparents and were brought to their house. Since it's my first time there, Daddy A's parents volunteered to take care of Kelly so we can go around. I'm extra curious about the famous pansit in Tuguegarao so I asked hubby to take me to his favorite pansitan. He took me to Budyok's and we ordered a plate of Pansit Cabagan. Before leaving Tuguegarao, though, Daddy A's dad brought us to Felicita's where the pansit is apparently better — I agree. He said I can't miss the chance to try it. 😀
On our second day, Daddy A's parents brought us to the nearest tourist spots. There are a lot more that we could have visited if we had more time, but we didn't so we had limited choices.
Our first stop was the Tuguegarao City Hall and the Capitol. I have to say that the city hall is rather grand, which surprised me because I was expecting a small building in a place like that. I guess the city's income is enough to build such a structure?

After taking photos of the government buildings, we went on to the famous Callao Cave. I was hoping to have a photo-op with Andoy (the boy featured in Maalala Mo Kaya -lol-), but he wasn't there. Instead, we chose James as our tour guide.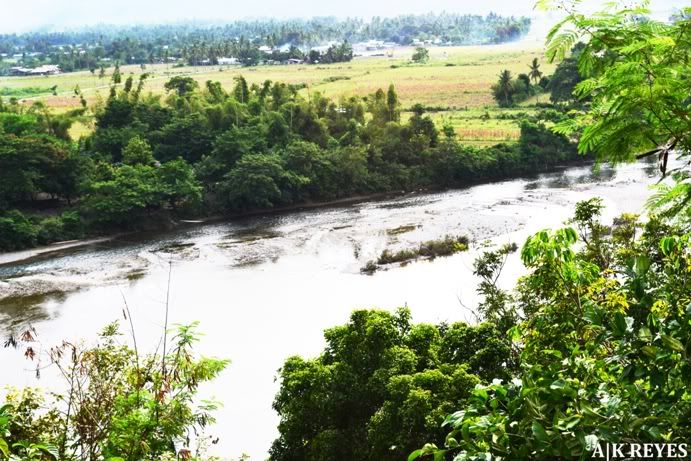 It took us a while to get to the entrance of Callao Cave since we had to hike going up. All the effort paid off, though, since the view from the top is spectacular!
Once at the top, we took the chance to take more photos of the place. I'd post shots from inside the cave. Unfortunately, I'm not very good at taking photos in dark places yet so the outcome wasn't so nice. No worries, though. We will definitely come back another time.
After our tour inside Callao Cave, James asked us if we'd like to take a boat ride to see bats fly out of a nearby cave. The boat rental costs P500 so we thought it's too much for only three of us. We decided to postpone the ride until our next visit.
Before the sun set, my in-laws brought us to Calvary Hills where St. James Church stood. Beside the church is a four century-old well and huge statues depicting the stations of the cross.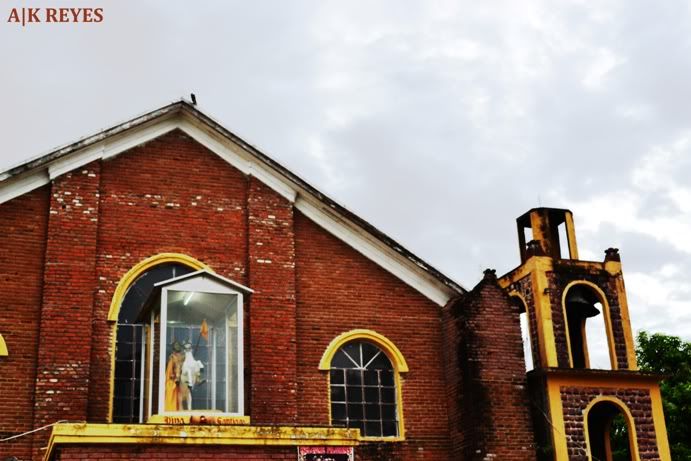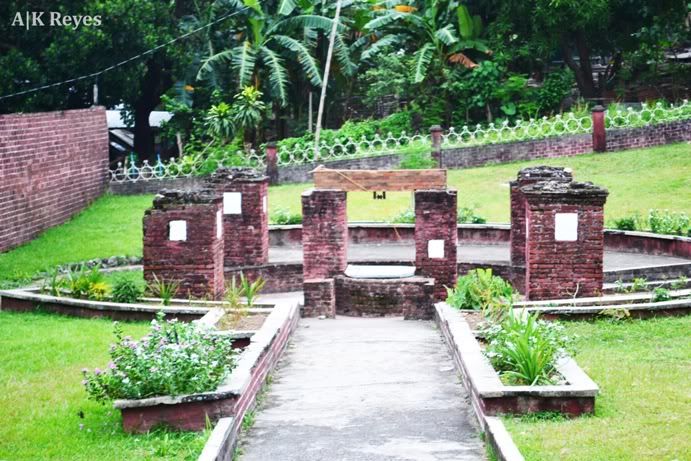 That capped off our looooong day. On our last night, hubby's dad prepared Ginataang Alimango for us. It's super delicious and it's something I've been craving for already! If I knew I could buy seafood there and bring it home in an ice chest, I would have done that.
On our last day, we attended mass, ate Pansit Cabagan in Felicita's, then went on to the airport. As expected, our flight was delayed by an hour again. Aside from the delayed flights, our whole trip is a success. We're surely going back for more!