This year, I decided to let my husband take the lead for our Mother's Day and 5th wedding anniversary celebration. Usually, whatever occasion it may be, I am the one planning for our activities. I am, anyway, the one that is more patient at finding deals and travel itineraries that our family will enjoy. But, since I have been extra busy lately, I just gave him my schedule and asked him to make arrangements for me.
And he did a pretty good job! Mother's Day this year happened to fall on our fifth wedding anniversary so Daddy A made sure it will be something I will enjoy. He knows me well because he planned a relaxing, slow weekend that our family will enjoy.
We haven't tried staying at F1 Hotel so he checked the website to book a full weekend with them. Luck was on our side because F1 Hotel was offering an awesome deal for moms in lieu of Mother's Day when we booked. For just PHP 6,600 a night, we were able to book a Fort Suite, which usually costs at least 13K! The hotel sure wanted to treat moms that weekend because our Fort Suite also came with a free spa treat for me.
What we love about our F1 Hotel Experience:
Easy booking process. A just gave them a call to ask for room availability. When we were set to book our room, we just sent a signed confirmation document and we were all set for a weekend of relaxation!
The hotel staff are very helpful. The staff–both in the hotel and their restaurant–are all very sensitive about what we needed. We didn't have to ask for anything since they would provide us with what we need even before we asked. For instance, when we had dinner at the hotel's restaurant, the waiters immediately brought two high chairs to our table. When the minis started acting up while we were still eating, one of the waiters came over with two lollies. Two thumbs up for that!
The room is very comfortable. We absolutely love our whole stay because of the super comfy room. It's a plus that we have wi-fi access from our room so I was able to stay connected during our stay.
The location. The hotel is located in the heart of Bonifacio Global City so if you need anything that's not inside the hotel, you can just go out and walk to the store. (I don't recommend going out with your car because you'd lose your parking space if you do!)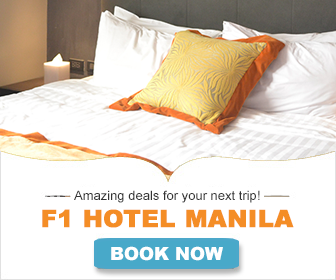 What needs to be improved:
Limited parking space. It was super hard to find a parking slot inside the hotel. If you're not lucky, you will be forced to park your car in the nearby open parking areas that charge incredibly high overnight rates. My suggestion is to just leave the car at home and rent a car or take a cab going to F1 Hotel. This way, you don't have to worry about parking. Besides, the hotel is walking distance from everything you need so you won't really need your car.
The in-room spa experience didn't meet our expectations. I go to the spa every week so I know the difference between a good massage and a lousy one. Since we wanted to make the most of our room, we requested to have our massage in-room instead of the hotel's spa. The downside about this is that since we kept our television on while we were having our massage, the therapists' eyes were both glued to the T.V. so they weren't able to fully focus on giving us a good massage. Perhaps the experience would have been better if we had the massage in the spa?
The food. Unlike other hotel buffet meals we've tried, F1 Hotel's doesn't have as much options for diners. We hoped to have steak for dinner and expected they'd have it since it's a weekend, but they didn't. 🙁
Will we go back to F1 Hotel Manila? DEFINITELY! Although they have yet to improve on certain areas, we can say that the overall experience was worth the money. We got what we came for–a relaxing weekend–and that's good enough for us!